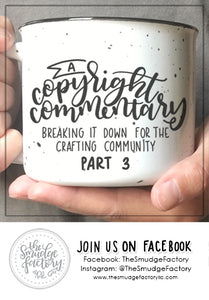 Hi guys! Welcome to Part 3 of "A Copyright Commentary: Breaking it down for the Crafting Community." I decided to break up my original post into 3 parts, simply because it's a TON of information, and I don't want it to get lost. In this post, I'm going to be talking to Designers about the copyright process, and how to file and upload designs to the copyright.gov website. I now draw about 20 designs at a time and submit them in PDF format as a group before they're published anywhere online (this includes all social media). I receive one copyright...
---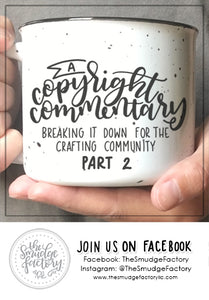 Welcome to Part 2 of my 3-part post on copyright! Ok, so let's talk about protecting yourself as a professional…whether you're a starving artist/designer or a small hobby business crafter, everyone needs to understand a few simple (yet very complicated) things…can I get an Amen? ;) Let's get right into it, because I truly believe this is the meat of my entire post.Designers, to avoid obvious infringement, make designs elaborate and MORE creative! If a design is VERY distinct, the copies will stick out like a sore thumb. On the other hand, if "Merry Christmas" is written in a pretty...
---
• copyright • infringement • trademark law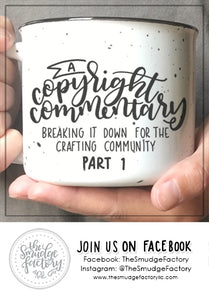 Hey guys, Rachel here from The Smudge Factory™! I just wanted to share a little bit about copyright (CR) and trademark (TM) with you. Since starting my hand-lettering journey, I've been asked so many questions about CR and TM, and I feel like it's a huge gray area that's widely misunderstood. I've been gathering my thoughts for a few weeks to write this post, and I finally feel like I'm ready to share it! I've taken it upon myself over the last few years to educate myself as much as I possibly could. I've spoken with several attorneys and apply...